The River
The Colorado River is the lifeline for the arid Southwest U.S. It provides water and electricity for people throughout the region, including residents of Los Angeles, Phoenix, Tucson, Las Vegas, Denver, and Albuquerque. Throughout its 246,000-square-mile (637,000 sq. km) basin, Colorado River water is also used extensively for agriculture, irrigating over 3 million acres (1.2 million ha) of crops and pasture. Along its route, the Colorado River has carved the Grand Canyon and other geologic spectacles, and provides abundant recreational opportunities for rafting, fishing, boating, and hiking. The river and its riparian areas also serve as habitat for a multitude of fish and wildlife species, including several endangered native fish.
Streamflow in the Colorado River comes mainly from winter storms from the Pacific Ocean that build snowpacks in the high mountains of western Colorado, western Wyoming, and northeast Utah. Most of the annual flow in the mainstem river occurs between April and July as these snows melt. The frequency and moisture content of the winter storms is strongly influenced by atmospheric circulation patterns and sea-surface temperatures. While El Niño-Southern Oscillation (ENSO) strongly influences precipitation in the lower basin, its influence on the upper basin snowpacks is much weaker, so ENSO's overall effect on streamflow in the Colorado River basin is modest, except during very strong El Niño events.
As the atmospheric flow of moisture from the Pacific Ocean shifts from year to year, the flow of the river varies up to fivefold, necessitating storage reservoirs in order to deliver a consistent water supply to users. Two huge reservoirs, Lake Powell and Lake Mead, are the linchpins of an elaborate system of reservoirs, canals, and tunnels (see map below) that distribute water and generate hydropower. In total, these facilities can store about four years of average flow. The U.S. Bureau of Reclamation operates the major reservoirs, with many state and local entities contributing to the overall operation of the system.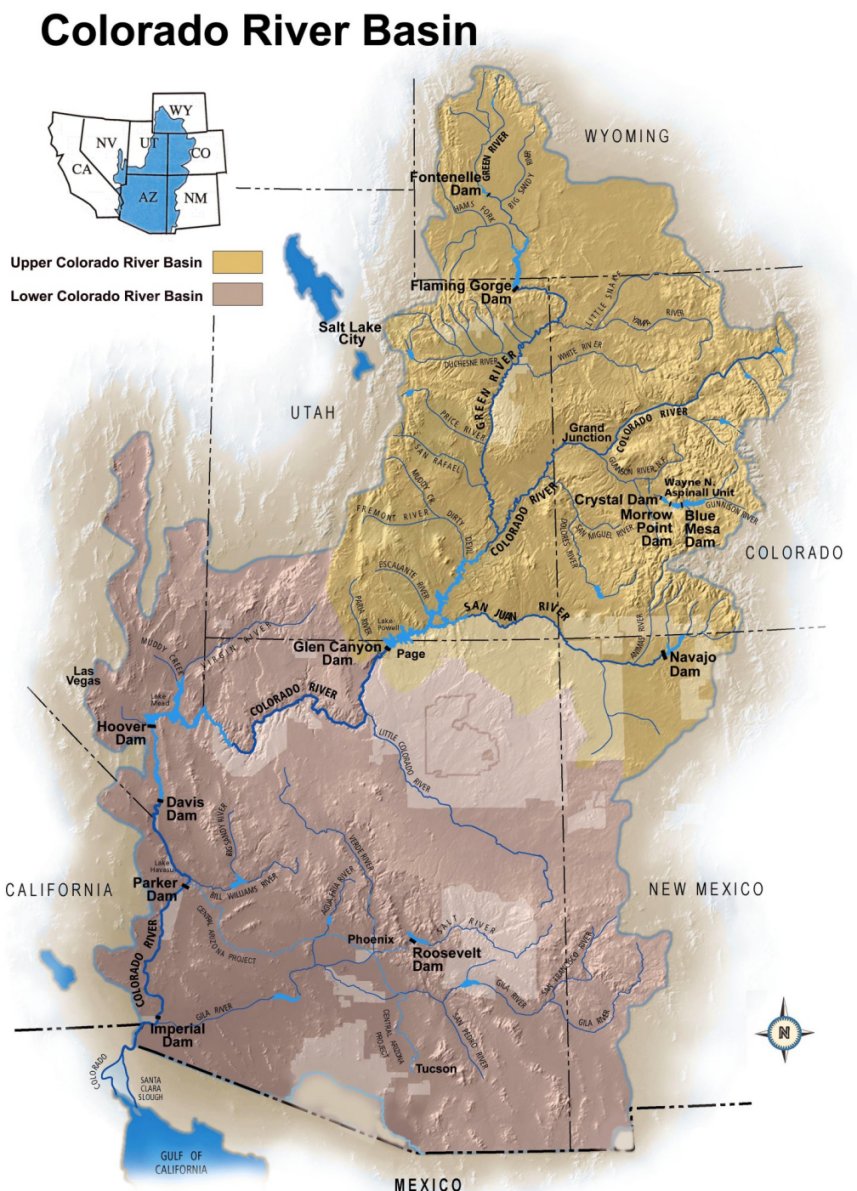 For more information about climate in the Colorado River basin, please visit these sites:
The pages that follow describe the legal basis for management of the Colorado River and the importance of Lees Ferry and its gaged streamflow record.